BIMserver.center's cloud-based working environment allows digital management of the problems that arise during the construction project, sending photos of them via mobile devices, optimising resolution times, and the ability to trace reported issues
Achieving efficiency and productivity is one of the challenges the construction industry faces to become more sustainable and less intensive. For this purpose, coordination between the construction professionals involved is a requirement that is achievable nowadays thanks to Open BIM technology and working in the cloud. The existence of digital tools operating on our BIMserver.center platform favours the optimisation process in the phases of construction project management, leading to higher quality construction projects with fewer delays.
Anticipating the exact quantities of material to be used on the construction site to avoid surplus products, designing more energy-efficient projects, or reducing the generation of waste are only some of the advantages we offer our users with BIMserver.center applications.
Here, we are going to take a closer look at the opportunities presented by digitalising construction site issues during the construction phase in order to optimise resolution times and minimise existing quality defects in the closing and acceptance of the construction phase.
How can we digitalise issues during the construction phase? Below, we will explain how to do so in our working environment and highlight the advantages of applying this work method.
What we need to digitalise construction site issue management with BIMserver.center
Companies overseeing the construction phase that wish to digitalise construction site issues for improving efficiency and productivity must have the project model they are working on in BIM format and it must be on our platform in the cloud. This eases the delivery, tracking, and feedback of project-related documents.
In order to consult all this information, the technicians and workers involved in issue control tasks must download the BIMserver.center application onto their mobile devices so as not to depend on a computer. Through this app, it is possible to identify, register, and send warnings about existing errors to the project members, both with text and images.
Advantages of managing issues digitally
The time invested in solving problems and issues during the construction phase is one of the most time-consuming and costly parts of a construction project. With the digitalisation of construction issues, these delays are reduced to a minimum due to allowing better communication between all construction professionals involved, as all communication can be carried out in real-time thanks to our platform.
All management in the same space in the cloud
BIMserver.center allows all issue management to be stored in the same space in the cloud, as they are linked to the documents and the project model itself, both in 2D and 3D drawings. Users can even view issues on the model in Augmented Reality and Virtual Reality.
When creating an issue, the person responsible can add one straight from their mobile phone by uploading images, adding them either from an image gallery or by taking a picture on the spot with their camera. This way, a detected issue is uploaded together with an image to back it up, to which text and other observations can also be added.
All this information is accumulated and easily accessible to all construction professionals involved who have access to it, as another one of BIMserver.center's advantages is that the project coordinator can give permission to various collaborators depending on their responsibilities.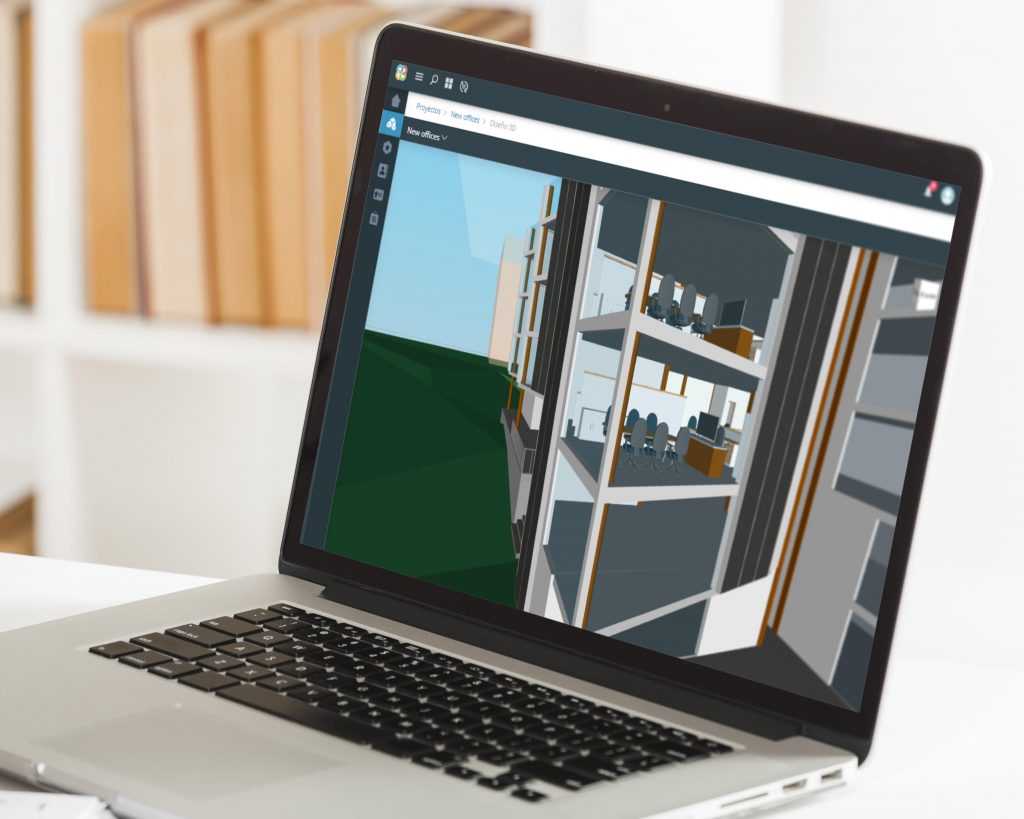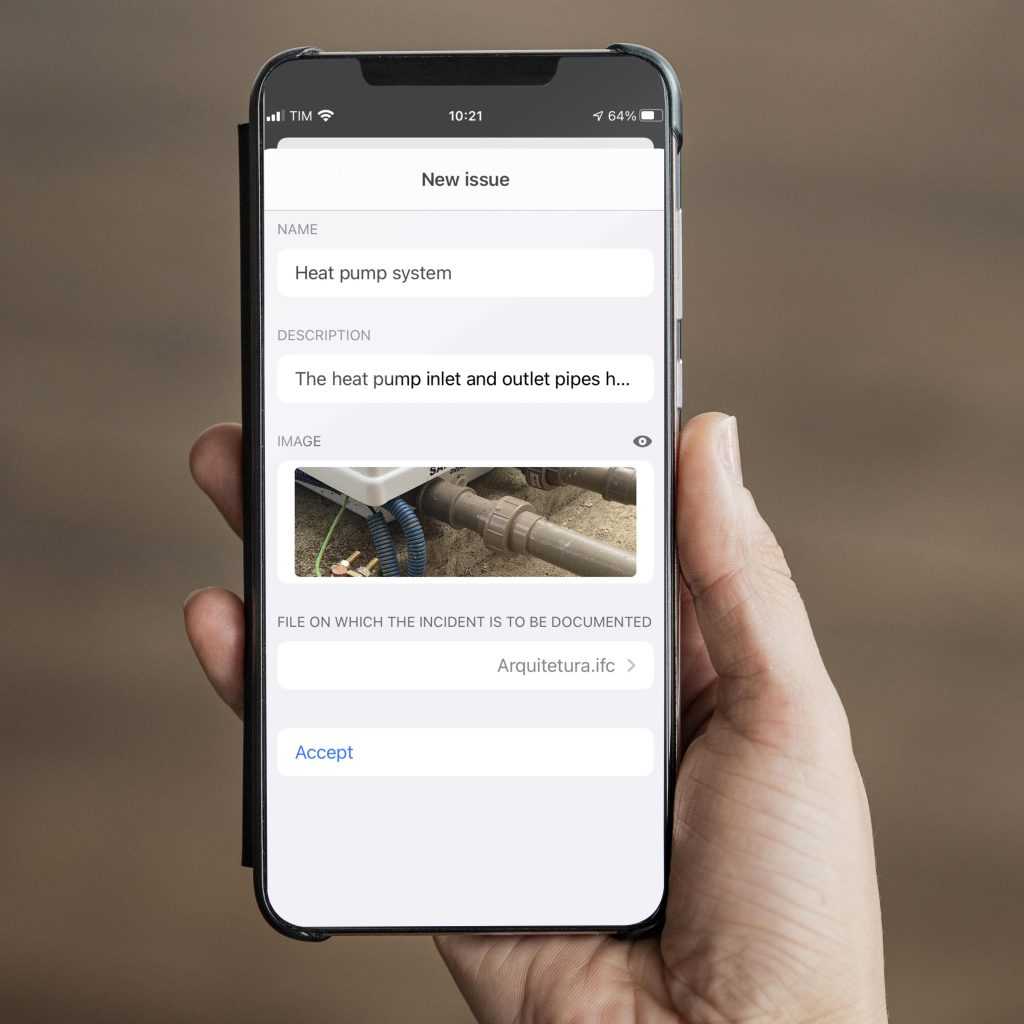 Multidirectional communication
Issue information flows multi-directionally in real-time, meaning all construction professionals who have access to it are able to view an issue's status, make comments, assign tasks, provide revisions, add information, etc. This way, it is easy to know who has done what and what each participant has to do by accessing the list of specific tasks that may have been assigned to them.
As this information is stored in the cloud in an organised manner, BIMserver.center allows the technicians involved to quickly review any completed activities, which solves another major problem that arises during the construction phase: issue traceability.
Who was involved in what? How were things solved and by whom? How was it solved? All the information is recorded and sorted in BIMserver.center. This issue organisation also favours their prioritisation, giving some more importance than others with the aim of speeding up the construction phase.
Getting ahead of the acceptance of the construction phase
The acceptance of the construction phase is, undoubtedly, the most critical in the whole process, as it is the moment when the client may or may not approve the final project. This is when deficiencies or construction errors arise that the client does not accept, so they must be solved in order to successfully complete the job. To minimise these problems and speed up delay times, digitally recording all reported issues is very useful as it enables a final inspection before handing over the project, conducting very precise quality control in order to meet the client's needs and requirements.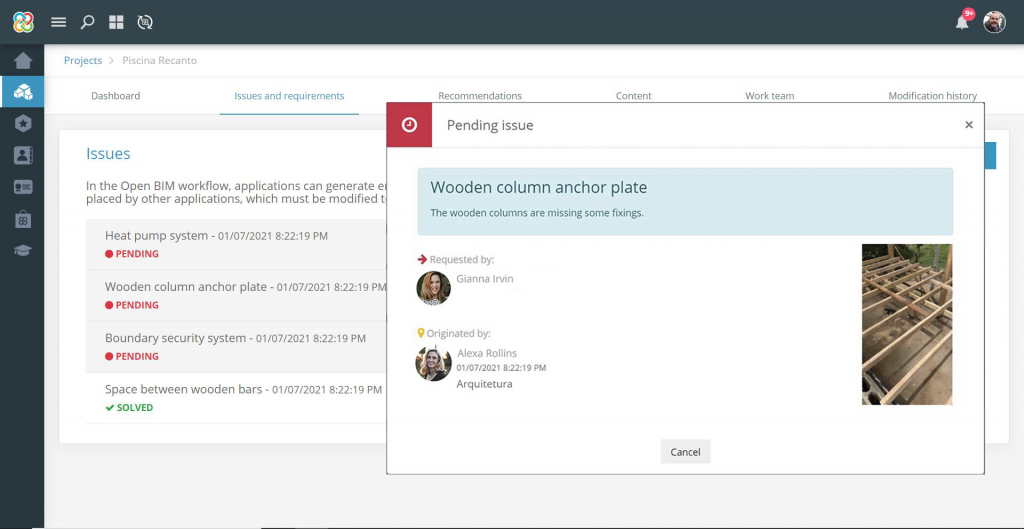 Also applicable to the design phase
Although in this article we have focused on recording issues during the construction phase, we would additionally like to highlight that our applications can also be used during the design and analysis stage to optimise processes during the construction phase and minimise mistakes. We encourage you to read our article "BIMserver.center incorporates a new application to indicate issues in BIM models".