This Use Case sets some guidelines so that any professional can develop a fire protection design in the most efficient way possible. In the following article we will explain the main advantages of working with the Open BIM methodology, the applications we have for the regulatory compliance of the different sections, and how to use the BIMserver.center platform.
---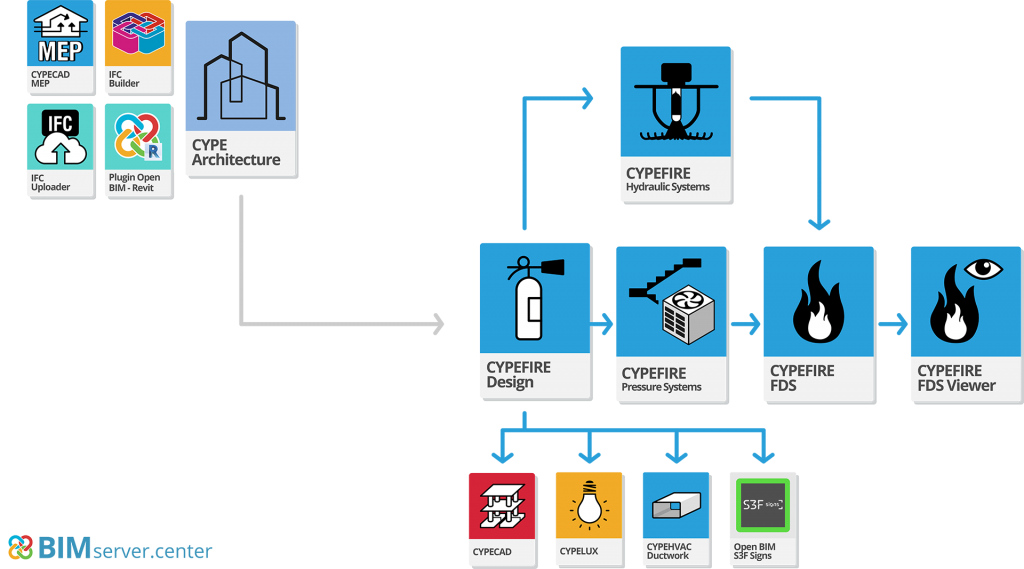 ---
The Open BIM methodology takes the development of the fire prevention project to a new era since communication and interoperability between all the construction professionals involved has never been so easy. In this article we will review all the applications that participate in the flow and, in general, how they interact with each other.
Project Creation
Architectural Model Development
Fire protection design
CYPEFIRE Design
CYPEFIRE Hydraulic Systems
CYPEFIRE Pressure Systems
CYPEFIRE FDS
This is the end of the main workflow in the field of fire protection. But this Use Case does not end here, as there are many other applications whose use by designers is necessary to complete the final project.
Complementary Applications
CYPECAD
CYPELUX
CYPEHVAC Ductwork
Open BIM S3F Signs
Use Cases are schemes that bring together a series of steps and instructions. They use a variety of resources and applications and involve different construction professionals and levels of interaction, in order to achieve a specific goal within the cycle of an Open BIM project.